Greg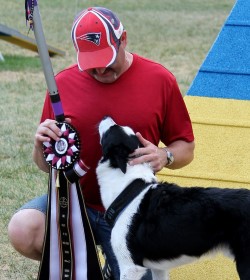 Though Katrina had been teaching agility classes for years, it wasn't until 2005 that I took an interest in trying agility for myself – up until that point I was just a spectator! While fostering for Rocky Mountain Border Collie Rescue, I took an interest in a mostly white border collie named Skye. I decided to try agility with Skye and was hooked. We continued up through the class levels quickly, and were successfully competing in our first trial in less than a year of training. Our successes include earning an AKC MACH 2 title, an P-ADCH Bronze and Lifetime Achievement award with USDAA, and placing 18th at AKC Agility Nationals in 2013 out of over 400 dogs that year in Tulsa, OK. Skye retired from agility in 2015 after competing in the Veterans Showcase at USDAA.
In 2008, I acquired the brother of our dog Rush at 10 months old. I renamed him "Rip" when he arrived in Colorado with me, and shortly after we began training in agility. Rip has earned an AKC MACH title and has also completed his ADCH Bronze title and Lifetime Achievement award with USDAA. He still competes periodically in USDAA agility in the Performance division where he's had a number of placements at Regional events and in 2016 we got to run in the DAM Team finals at Cynosport!
In 2013 I got my first puppy "Envy" who would grow up learning agility. She started competing around age 2. She really loves the game and has had some great success, and unfortunately she has also had some injuries keeping us from competition.
My youngster, "Valor", was born in May 2017 and is learning the ropes too. He's a bit of a goofball but is doing well and should be a great agility dog!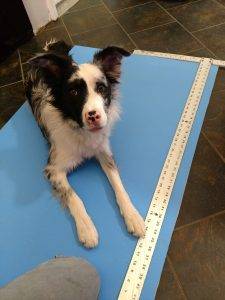 Skye, age 11 running at Cynosport