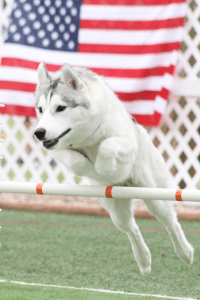 What is dog agility?   Just the most fun you can have with your canine companion ever!  I am sure you have seen it on television, the dogs running through tunnels, jumping over jumps, weaving through poles, climbing an a-frame, running across a dog walk!  So much excitement!  You can learn how to do it to! We can show you how.
VIP Dog Sports follows the training philosophy of OneMind Dogs .  Visit their website to find wonderful videos of how to teach, train and run this wonderful sport.  One of our agility instructors, Katelyn Scott, is a OneMind Dogs Coach, the other is a OneMind Dogs Instructor.  You are in good hands coming to us for your agility training needs.
We offer foundation classes and master level training, as well as everything in between.
If you are just starting we will teach you how to train your dog for this amazing sport so that you can be safe, efficient and fast.  If you have already been running and competing, we can help you improve your lines and your timing which in turn will improve your course times and overall enjoyment of your sport!
New students would start in Agility Intro.  If you have had some training but do not know what level you are at we can schedule a private evaluation to decide which level best suits you and your dog.
Both of our agility instructors currently complete in AKC, UKI and USDAA agility venues.
Past experience also includes DOCNA and NADAC.
Our instructors will teach you how to get the most out of your team.  They are very well versed in training to bring the most out of your dog.  Whether it requires more motivation, more control, better distance training, or more independence on the obstacles, we are the training center for you.
Here are more photos of our dogs doing agility